Master Days 2022
-
Between May 30th and June 2nd, the OvGU is organising the Master Days 2022.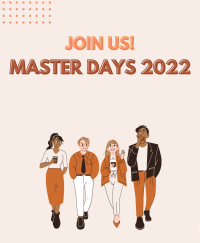 The event offers all those interested in Master's degrees the opportunity to clarify questions and find out about the various Master's degree programmes at Magdeburg University.
The Master Days 2022 also offers the possibility to participate online as well as on site and the Master's programme European Studies will also be presented at the fair!
Here you can have a look at the programme of the Master Days 2022 and also register for the event!
More information can also be found here.